Posts for: April, 2018
By Douglas M. Hope, DMD, MAGD
April 21, 2018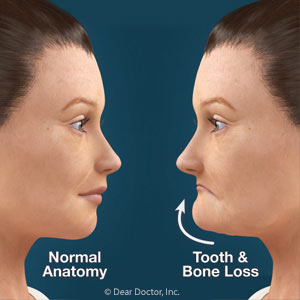 Losing teeth will certainly disrupt your otherwise beautiful smile. It could also potentially affect your food choices and whether or not you receive proper nutrition.
But something else just as consequential could be happening beneath the surface of your gums—you could be losing bone. Significant bone loss in the jaw could adversely affect remaining teeth and facial structure, as well as limit your future restoration choices.
To understand why this occurs we must first consider what bone is: living, cellular tissue. Like the body's other cells, bone has a life cycle: cells form, live and eventually dissolve (or resorb), and are then replaced by new cells. Stimulation from forces generated during chewing traveling up through the tooth roots to the jawbone keep this cycle going at a healthy pace.
But when a tooth is missing, so is this stimulation. This could slow the replacement rate and cause bone volume to gradually decrease. The jawbone width could decrease by as much as 25% the first year alone and several millimeters in height after just a few years.
Although dentures (a popular and affordable choice) can restore lost function and appearance, they can't duplicate this needed stimulation. They even accelerate bone loss by irritating and creating compressive forces on the bony ridges and the gums they rest upon.
One restoration, however, can actually help stop bone loss and may even reverse it: dental implants. This happens because an implant's metal titanium post imbedded in the jawbone attracts bone cells to grow and adhere to its surface. This could actually increase bone density at the site.
To gain this advantage, it's best to obtain implants as soon as possible after tooth loss. If you allow bone loss to occur by waiting too long, there may not be enough to properly support an implant. Even then it might be possible to build up the diminished bone through grafting. But if that's not possible, we'll have to consider a different restoration.
To determine the condition of your bone after losing teeth, visit us for a complete examination. Afterward, we'll be able to discuss with you the best way to address both your overall dental health and your smile.
If you would like more information on treating missing teeth, please contact us or schedule an appointment for a consultation. You can also learn more about this topic by reading the Dear Doctor magazine article "The Hidden Consequences of Losing Teeth."
By Douglas M. Hope, DMD, MAGD
April 11, 2018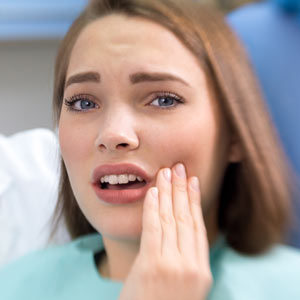 In an instant, an accident could leave you or a loved one with a missing tooth. Thankfully, we can restore it with a dental implant that looks and functions like a real tooth—and the sooner the better.
But if the patient is a teenager or younger, sooner may have to be later. Because their jaws are still developing, an implant placed now could eventually look as if it's sinking into the gums as the jaw continues to grow and the implant doesn't move. It's best to wait until full jaw maturity around early adulthood and in the meantime use a temporary replacement.
But that wait could pose a problem with bone health. As living tissue, bone cells have a life cycle where they form, function and then dissolve (resorption) with new cells taking their place. This cycle continues at a healthy rate thanks to stimulation from forces generated by the teeth during chewing that travel through the roots to the bone.
When a tooth goes missing, however, so does this stimulation. Without it the bone's growth cycle can slow to an unhealthy rate, ultimately reducing bone volume.  Because implants require a certain amount of bone for proper placement and support, this could make it difficult if not impossible to install one.
We can help prevent this by placing a bone graft immediately after the removal of a tooth within the tooth's "socket." The graft serves as a scaffold for new bone cells to form and grow upon. The graft will eventually resorb leaving the newly formed bone in its place.
We can also fine-tune and slow the graft's resorption rate. This may be preferable for a younger patient with years to go before their permanent restoration. In the meantime, you can still proceed with other dental treatments including orthodontics.
By carefully monitoring a young patient's bone health and other aspects of their dental care, we can keep on course for an eventual permanent restoration. With the advances in implantology, the final smile result will be worth the wait.
If you would like more information on dental care for trauma injuries, please contact us or schedule an appointment for a consultation. You can also learn more about this topic by reading the Dear Doctor magazine article "Dental Implants for Teenagers: Factors Influencing Treatment Planning in Adolescents."