Posts for: September, 2020
By Douglas M. Hope, DMD, MAGD
September 17, 2020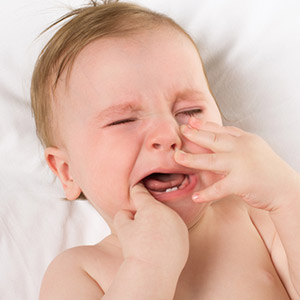 Parents have been dealing with their children's teething pain for as long as parents and children have been around. Along the way, the human race has developed different ways to ease the discomfort of this natural process of dental development. While most are good, common-sense measures, one in particular needs to be avoided at all costs—applying topical oral products to the gums containing Benzocaine.
Benzocaine is a topical anesthetic often found in oral products like Anbesol, Orajel or Topex to help ease tooth pain or sensitivity. The agent can be found in gel, spray, ointment or lozenge products sold over-the-counter. As an analgesic, it's considered relatively safe for adults to use.
But that's not the case with infants or younger children. Researchers have found a link between Benzocaine and methemoglobinemia, a potentially fatal blood condition. Methemoglobinemia elevates the amount of a hemoglobin-like protein called methemoglobin, which in high concentrations can lower oxygen levels being transported to the body's cells through the bloodstream.
Because of their smaller anatomy and organ systems, younger children can have severe reactions to increases in methemoglobin, which can range from shortness of breath or fatigue to seizures, coma or even death. That's why you should never use products with Benzocaine or similar numbing agents to ease teething pain. Instead, follow these common sense practices:
Give your child chilled rubber teething rings, wet washcloths or pacifiers to chew or gnaw on. The combination of cold temperatures and pressure from biting on them will help ease the pain. Just be sure the item isn't frozen, which could cause frost burns to soft tissues.
For temporary relief from soreness, gently massage your baby's gums with a clean, bare finger or with it wrapped in a clean, wet cloth. The massaging action helps counteract the pressure of the incoming tooth.
For intense episodes of teething discomfort, ask your healthcare provider about using an over-the-counter pain reliever like acetaminophen or ibuprofen. Be sure you use only the recommended dose size for your child's age.
Teething is in many ways like a storm—it too shall pass. Be sure you're helping your baby weather it safely.
If you would like more information on dealing with teething pain, please contact us or schedule an appointment for a consultation.
By Douglas M. Hope, DMD, MAGD
September 07, 2020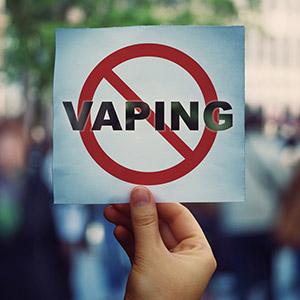 E-cigarettes have taken the world by storm, especially among younger adults. The reason: the widespread perception that "vaping" is healthier than smoking tobacco.
But a deeper look at this wildly popular habit reveals a product that doesn't live up to its reputation as smoking's "safer alternative." One aspect of health that's especially in harm's way is the mouth: Teeth and gums could in fact be just as prone to disease with an e-cigarette as the tobacco variety.
E-cigarettes are handheld devices that hold a cartridge of liquid vaping product, which is then heated to produce an inhalable vapor. Technically, it's an aerosol in which solid chemical compounds within the vaping liquid are suspended in the vapor. The aerosolized vapor thus serves as a transporting medium for these chemicals to enter the user's body.
It's these various chemicals inhaled during vaping that most concern dentists. Top on the list: nicotine, the addictive chemical also found in regular tobacco. Among its other effects, nicotine constricts blood vessels in the mouth, causing less blood flow of nutrients and infection-fighting cells to the gums and teeth. This not only heightens the risk for gum disease, but may also mask initial infection symptoms like swelling or redness.
Flavorings, a popular feature of vaping solutions, may also contribute to oral problems. These substances can form new chemical compounds during the vaping process that can irritate the mouth's inner membranes and trigger inflammation. There's also evidence that e-cigarette flavorings, particularly menthol, might soften enamel and increase the risk of tooth decay.
Other chemicals commonly found in vaping solutions are thought to increase plaque formation, the sticky film on teeth that is a major cause for dental disease. And known carcinogens like formaldehyde, also included in many formulations, raise the specter of oral cancer.
These are just a few of the possible ways vaping may damage oral health. Far from a safe tobacco alternative, there's reason to believe it could be just as harmful. The wise choice for your body and your mouth is not to smoke—or vape.
If you would like more information on the oral hazards of e-cigarettes, please contact us or schedule an appointment for a consultation. You can also learn more about this topic by reading the Dear Doctor magazine article "Vaping and Oral Health."